Anthony, Personal Trainer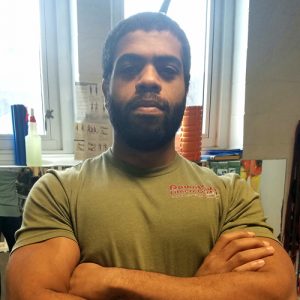 I am a Marine Corp veteran and experienced personal and group fitness trainer with an extensive background in the fitness industry and a passion for helping clients meet and maintain their goals. I specialize in personalized training programs tailored to my client's unique fitness goals. From experience athletes to beginners with no previous experience, I have worked with clients of all levels. I believe everyone has the power to make positive changes to their health and lifestyle through exercise and healthy living. My goal is to equip you with the knowledge, skills, and encouragement to achieve your fitness objectives.
Personal Experience: I started my own fitness journey with distance running in middle school and went from running 3 miles to running half marathons. While serving in the United Stated Marine Corp I led Marines in morning workouts, got my green belt in Marine Corp Martial Arts and maintained a first class rating on the USMC physical fitness test. During this time I developed a passion for weight lifting and improving my overall health and performance that would be my introduction into the fitness industry. Since 2014 I have helped clients meet their goals through personal training and leading group fitness classes such as Boot Camp and Cardio Boxing. I have also trained in Boxing, Mixed Martial Arts, Muay Thai, Grappling, and competed in Brazilian Jiu-jitsu.
Credentials: ACE Certified Personal Trainer, Red Cross CPR Certified
Contact: (318) 307-8726 | woodsam504@gmail.com