Our 'The Shops at Canal Place' New Orleans Gym has numerous amenities, included and by-fee group classes, weight and cardio machines, free weights, sauna, tanning and more. Member Perks are available at both locations.
Over 40 YOGA Classes Each Month, Included With Membership & Guest Passes!
Canal Place Club Class Schedule
4 week plan: $80 ($10/class) | 10 class pass: $150 ($15/class)
Downtown Fitness Center members receive a $20 discount at check-out with code DTF2018
The Shops at Canal Place, 3rd Floor
PHONE: 504.525.2956
HOURS: M-F 6a-9p S-S 9a-5p
Parking at Canal Place: $3 for 2 hours.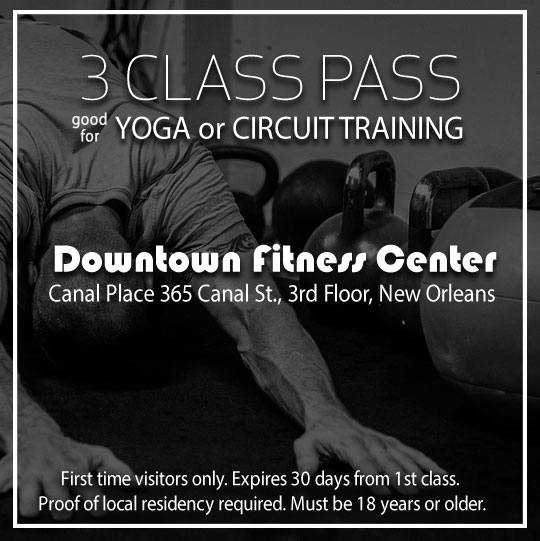 Amenities
Personal Training | Classes | Group Discounts | Jogging/Walking Tours | Saunas | Yoga | Zumba | Cybex & Nautilus Equipment | Workout Clothing | Free Weights & Dumbbells | Tactix | Silver Sneakers | Peoples Health Program
Tanning – (Canal Place location only, by appointment)
Members: $15/mo | 1 session $10 | 1 Month $45 | 10 session $55
Guests: 1 session $12 | 1 Month $55 | 10 sessions $65
Massage Therapy – Licensed therapists on staff are happy to discuss all procedures, concerns, and benefits of therapeutic massage. Appointments required, please contact your preferred club. There is a 2-hour reschedule and/or cancellation notice required in order to avoid fee. Partial body – $55 | Full body – $80 | Extended body – $125
Class Descriptions
*indicates by fee
POLE PERFECT FITNESS*:  A fun, slimming and toning, health and fitness plan that is sure to benefit all areas of their lives. Advance reservations required.
THE WORKOUT*: For all fitness levels, a different workout each session. 1st workout free. Call 525-2956 for details.
BOOT CAMP: Cardio, strength, agility and AB training.
BODY SHAPE: 30 minutes of cardio followed by 15 minutes of light weights many reps with dumbbells.
CARDIO BLAST: Cardio interval training with emphasis on core, abdominal and gluten work.
BODY WORK: Cardio with strength training with emphases on heavy weights.
FIT4BABY*: Cardio, strength, flexibility and balance training to support the health of the mother, the baby and birth.
SPIN: Indoor cycling very effective and great for all ability levels. Instructors guide participate through work out phases.
BARBELL PRESS: Performed to music using barbell free weights and aerobic step. Compound and isolated movements are the basic for the class.
HIP HOP AEROBICS: With Olivia, burn up to 1000 calories each session!
YOGA: 40 CLASSES EACH MONTH! Synchronized breathing with progressive, continuous postures. Deep tissue muscle work while getting in touch with your being.
ZUMBA: Latin inspired combination of fast/ slow rhythms tone & sculpt the body maximizing caloric output, fat burning/total body toning